Do you like FREE MONEY? Of course you do, who doesn't?! As we approach July, many people associate the increasing temperatures with increasing energy costs, but that doesn't have to be the case! Below we're going to dive into some of the best tips for keeping your home cool and your wallet full.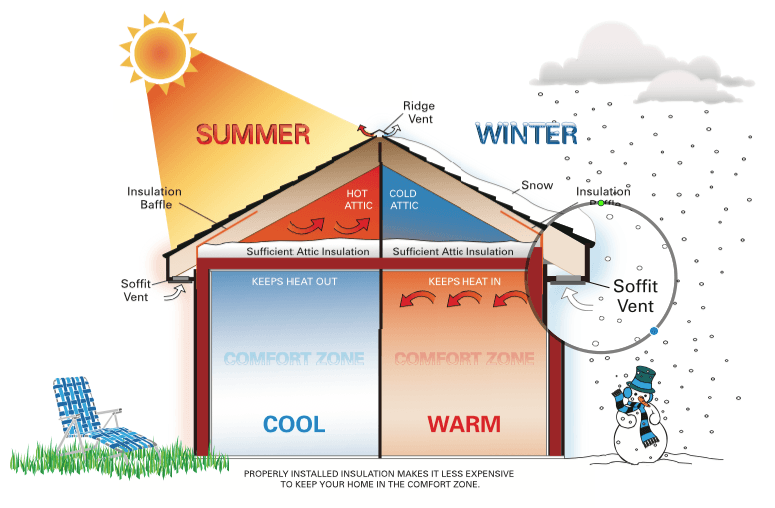 1. INSULATION
This one may come as a surprise to many! Sure, insulation is commonly associated with keeping your home warm in the winter. What most don't realize is that a well insulated home that traps warm heat in the winter does the same with the comforting cold air from your A/C in the summer. Creating a thermal barrier between your living space and the harsh outdoors is by far the best way to save money.
2. ENERGY STAR WINDOWS
Windows can be one of the top areas of solar heat gain in the summer. New Energy Star windows have a Low-E coating on the glass and the thermal pane glass is filled with an inert gas (Argon, Krypton or a blend of each). This glass package helps keep you cooler in the summer by reflecting the heat outward & warmer in the winter as it will reflect the heat back into your home. Newer windows are easier to operate, are virtually maintenance free & tilt-in for easy cleaning. So, new windows can not only help save you energy, but you can also get a better view of the great outdoors.
3: LIGHTING
This one is a two-bird-one-stone situation. Switching to LED lights is not only cheaper and more environmentally friendly, but they also give off much less heat. So not only do you have to pay less to use them, but you also don't have to run your A/C as much to battle the heat they give off.
4. FANS
No, not your supporters and admirers, we're talking ceiling/oscillating fans and proper attic ventilation. In fact, proper attic ventilation is one of the most important parts of lowering your energy bill! Although ceiling and oscillating fans don't directly cool your home, they do a great job at circulating the cool air which makes you feel more comfortable.
5. OPENING THE WINDOWS
Tightly sealed windows are important for blocking heat from entering during the day of course. However, after the sun sets there will be plenty of nights where it will be comfortable enough to turn off the A/C and open up the windows.
6. CLOSING THE BLINDS
According to scientists across the world, it has been well documented that the sun is in fact HOT. So hot that it warms up anything that it shines on which includes your home. By closing the blinds, the suns warming rays will be stopped in their tracks instead of driving up your energy Bills. 
7. GET AN ENERGY AUDIT
Most people don't have the tools or resources to figure out just how much they can save on their energy bill or even what they need to replace to lower it! An energy audit is simple. It involves someone coming to your home to evaluate where you can improve to save the most energy. They'll even tell you how to do it! Luckily for you, as a thank you for taking the time to read these tips, Acorn is offering a FREE ENERGY AUDIT! With the use of Thermal Imaging technology and over 30 years of expert experience, Acorn wants to help YOU lower your bill and make your home more energy efficient.  Sound like something you might be interested in? Give us a call or fill out the form below!